Social media has now become an excellent way for you to gain customers, get them involved with your business and to gain a better understanding of what your customers' preferences are.  Social media can involve a variety of online communication, including forums, blogs, Twitter, podcasts and Facebook to name just a few.
Let me explain why businesses must seriously consider incorporating social media marketing as part of an overall online marketing strategy for your business.
Let's take a look at the key things that social media is able to achieve:
Use Social Media to Enhance the Visibility of Your Business
Social media is a highly effective method for boosting your customer base. Once you've established your online presence through your marketing efforts, you will be able to reach a larger percentage of people. Local advertising can no longer be relied upon as the most effective means of grabbing your share of the market.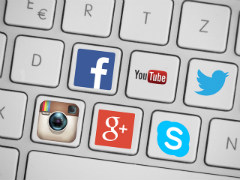 Increase Customer Base
When you have a social media presence online, it will allow you to attract new followers and keep existing customers updated with everything that your business is doing. If you are doing some really positive things, it can encourage your existing customers to share that information therefore expanding the reach of your business and services.
One of the biggest advantages of social media is how things can go viral.  Viral means that word can spread about your business rapidly as more and more people share things about your business much like how a virus is spread between humans or computers. The more people that you engage via social media the more people you can reach as everyone has friends and family.  As those friends and family come across the information they might need goods or services that you can provide. As you gain a bigger and bigger follower base, it can create a snowball effect on your exposure and you will be able to share your business with significantly more people.
Customer Interactions and Involvement
Customer comments are an excellent way to check out your feedback and to see if there are any trends you have not yet identified. It is one of the easiest ways to gauge what your customers want at any given time, so you can meet their needs as quickly as possible. This in turn can establish your customers' trust which should translate into more repeat customers. Once trust and repeat business is established, you can reap the benefits of referrals that come from them recommending your business.
Target Customers: Advertise your Business in Westfield, MA with Social Media Marketing
Optionally, you can use paid advertising as part of your social media campaign to easily target certain demographics to ensure that your business is being promoted to the right group of people. The social media advertisements can be modified with specific criteria, so you can pinpoint your potential customers precisely. Marketing to the wrong demographic means that your advertising money is being wasted unnecessarily.
Use Social Media to Promote Specials and Connect with Customers on a New Level
Social media can be used to advertise specials that your business currently offers. When people see that they are able to save money on goods and services they are more likely to buy it. In addition, if it is something that they like they may tell their friends and family about it.
You can connect with your customers on a level that is otherwise impossible, whether it is by posting one of your business' team events or by letting followers know about a new equipment purchase and how customers will benefit from it!
Use Social Media to Dominate Your Market
The second best advantage of social media marketing is to use social properties as part of a Total Market Domination Strategy.  The details and definition of a Total Market Domination Strategy is beyond the scope of this article.
In conclusion, it is evident that Twitter, Facebook and other social media have all become a significant part of daily life.  It is also important to understand that social media is a fantastic resource for businesses. A strong social media presence as part of a solid SEO strategy can pay big dividends when done correctly.
Established businesses that have not implemented social media as part of their online marketing strategy should do so as soon as possible.  Our Westfield Massachusetts social media marketing services can easily and quickly help you develop and implement an online social marketing game plan that is suitable for your local business.  If you are interested in learning more about Market Domination, please fill out our discovery page to tell us more about your business. Click HERE (you will be redirected in a new window).  Then, mention "Market Domination" when you call us today to schedule your free no cost, no obligation consultation (413) 729-9111.